SAFEDI Synchro Hub is a stand alone solution, which serves you as charging station and at the same time synchronizes the SAFEDI IDs into the anonymous close contact tracing journal.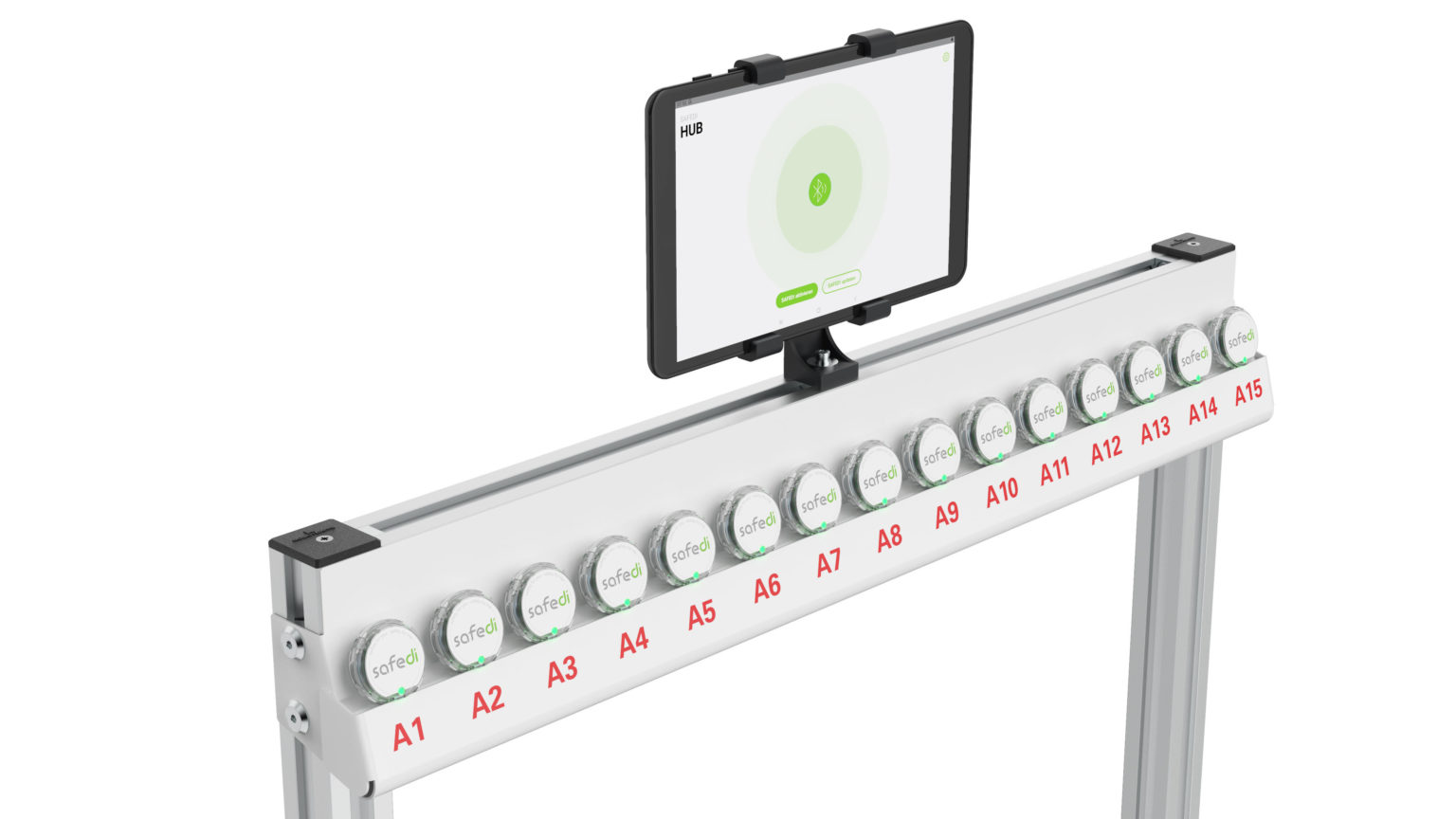 All-round Carefree Package
SAFEDI is always stored in your company
SAFEDI is always fully charged
SAFEDI is always synchronized
Most simple handling
No need of smartphone or app
Scope of Benefits
SAFEDI Synchro Hub
Hosting: Synchronizing of all SAFEDI IDs in company-own anonymous close contact retracing journal.
Daily anonymous analysis of the active SAFEDIs and the total number of close contacts.
Updates for SAFEDIs and SAFEDI Synchro Hub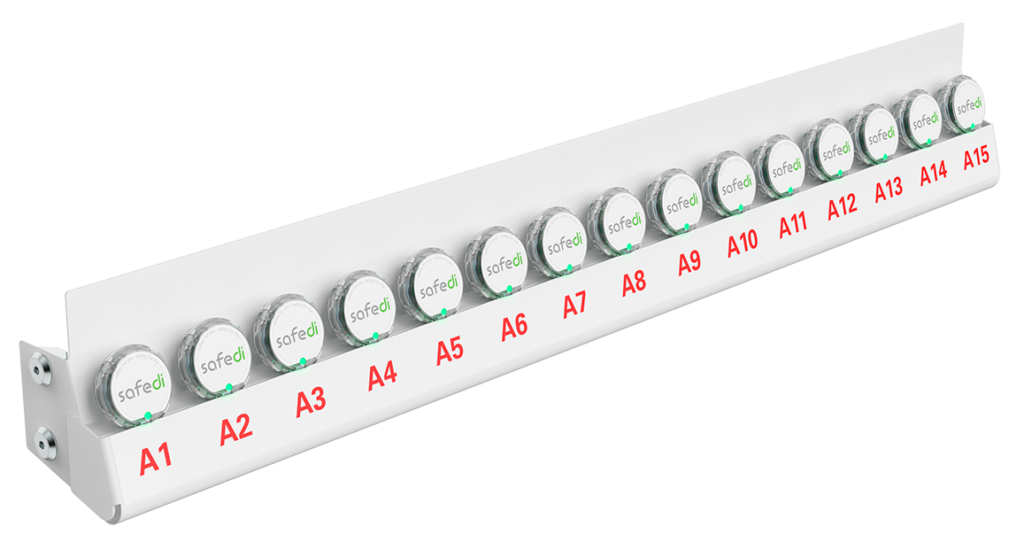 15 labeled charging units for SAFEDIs per row.
Up to 180 SAFEDIs with one single SAFEDI Synchro Hub.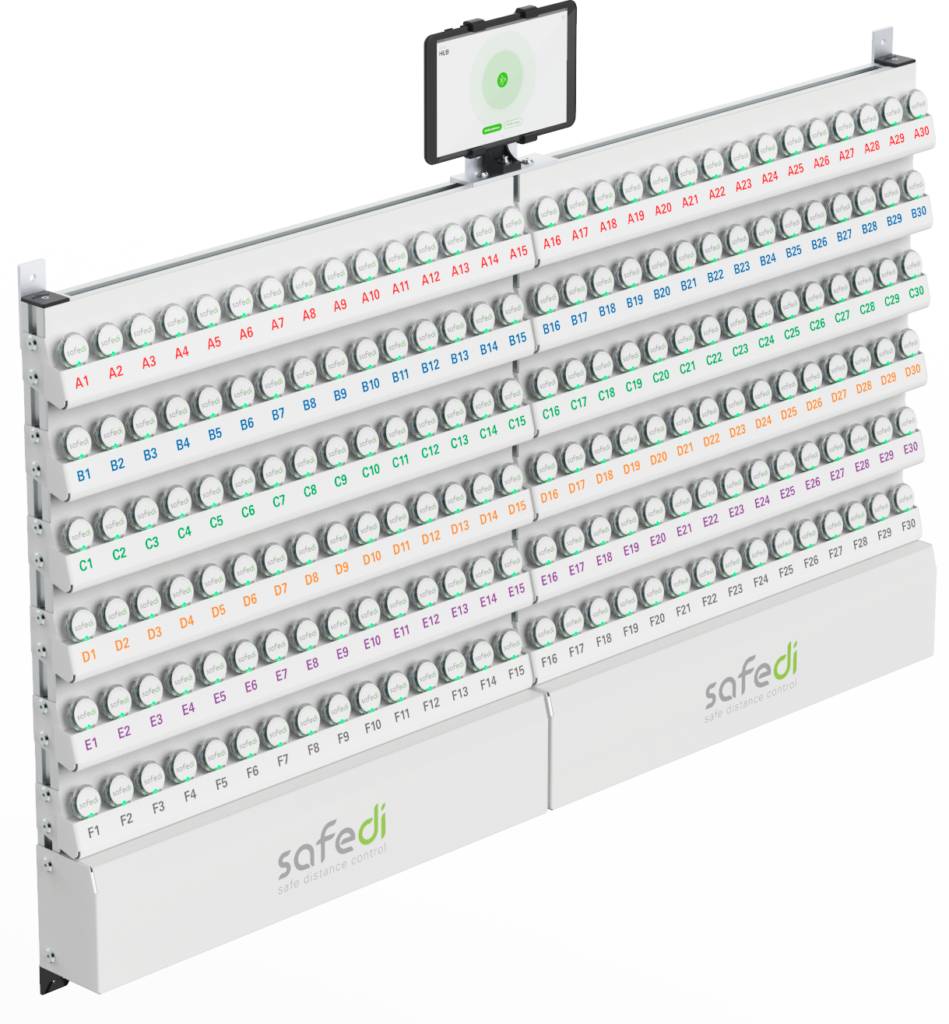 What does "all-round carefree package" mean?
"The SAFEDI Synchro Hub also serves as a charging station for SAFEDIs, as well as for synchronizing the SAFEDI-IDs into the close contact diary — without the need for a smartphone or app. The advantage is that each SAFEDI always stays within the company and is always charged and synchronized. We strongly recommend that SAFEDIs are marked with a number or abbreviation, so that they can quickly be found if mistakenly plugged into the wrong charging port."
How are employees notified when they come into contact with a confirmed infection case?
The confidant contacts all SAFEDI-IDs that have had close contact in the warning range with the infected ID. For those using the smartphone app, all affected SAFEDI-IDs also receive a push notification.
How does the confidant know which SAFEDI-ID belongs to which employee?
We recommend that the confidant assigns each SAFEDI or SAFEDI-ID to a person and makes a note of this, before handing out the SAFEDIs. This makes it easier to notify the close contacts in the case of an infection. The SAFEDI-ID is enclosed with the respective SAFEDI within the packaging and can be viewed in the SAFEDI-Portal after synchronization with the SAFEDI Synchro Hub.
How is close contact with an infected person displayed on the SAFEDI Synchro Hub?
The SAFEDI Synchro Hub is only used to synchronize the SAFEDI-IDs or close contacts in the anonymous close contact diary. Nothing is displayed on the Synchro Hub itself. All close contacts with the affected infection case will be listed and displayed in the SAFEDI-Portal. Only the confidant has access to the Portal.